Through the project "My city, my sustainability" we want to establish the connection, share the best practices and create new material between Nordic and Baltic organisations working with youth and sustainability topic in order to inform, involve and educate young people in the topic of sustainability in our daily lives by providing them a resource and tool in regards of more concussions and sustainable way while consumer, relaxing, travelling and shopping.
Project consists out of following activities:
1. Kick off meeting
2. Research – peoples habit in each city in regards of utilizing sustainability in their daily life as well as collecting data on environmentally friendly places and businesses.
3. Seminar – exchanging the results of the research and criteria set for the creation of "City Compass" digital maps of 3 European cities – Kaunas, Tartu and Aarhus.
4. Development of mobile phone application "City Compass".
5. Dissemination, distribution and multiplication of the project results.
Our project wants to be a part of the solution by combining and enhancing NGOs knowledge about sustainability to promote and support the businesses and organisations with sustainable tool which would help to locals and visitors to experience the sustainable side and in exchange would have opportunity to contribute to a more sustainable way of living.
Additionally, project strengthens Nordic/Baltic regional collaboration in the field of environment, sustainability and health.
TO VISIT PROJECT WEBSITE CLICK HERE.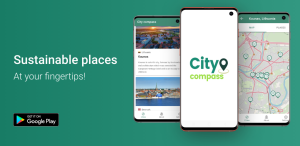 Download the CityCompass v1.0 app from Google Play HERE.
Participating organisations:
Mano Europa – Lithuania (Project Coordinator)
Danish Youth Team – Denmark
Seiklejate Vennaskond – Estonia
The project is financed by the Nordic Council of Ministers' Grant Programme for Nordic-Baltic Non-
Governmental Organisations' (NGO) Cooperation 2021 Lithuania.