KA2 FSEU – 2nd Transnational Project Meeting in Rome!
Editorial Team
📢 Mano Europa team just came back from Rome 🇮🇹 where we participated in 2nd Transnational Project Meeting of the KA2 project #FSEU.
Together with our project partners from Italy, Bulgaria, Denmark, Portugal and Spain we discussed the content of the local workshops, as well as planned the upcoming Blended Youth Mobility in Portugal.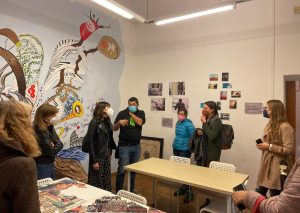 Additionally, we were invited to the Youth Center @matemu_cies which offers educational activities and help-desk support for young people.
Shortly about the project:
Fake the system: EU tools against disinformation aims to counteract the disinformation and fake news, especially those that focus on pro-European issues. The danger of manipulating news relating to the European Union is in fact a current and real phenomenon: through the massive use of misleading trend hashtags and unreliable journalistic sources, true European policies in favor of the spread of fake news that foment a climate of dissent towards the community institutions.
🇪🇺 The project is co-funded by the Erasmus+ Programme of the European Union.