Download and check our new mobile application – CityCompass
Editorial Team
City Compass application has been developed as a result of the project "My city, my sustainability".
With this mobile application and project, we aimed to establish the connection, share the best practices and create new material between Nordic and Baltic organisations working with youth and sustainability topic.
Additionally, with this application we want to inform, involve and educate young people in the topic of sustainability in our daily lives by providing them resource and tool in regards of more conscious and sustainable way of living while consuming, relaxing, travelling and shopping.
Currently the mobile phone application involve 3 European cities – Kaunas, Tartu and Aarhus.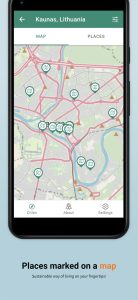 The mobile phone application involves places which were divided in 5 categories:
Cafes / restaurants
Clothing and home items
Sustainable and eco-friendly activities
Educational and information places
Local / traditional markets / farmers
Download the mobile phone application – City Compass.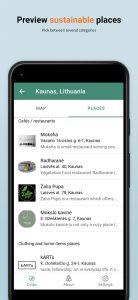 Do you know more sustainable businesses in Kaunas, Tartu or Aarhus? Feel free to email us at info@manoeuropa.org
The project is financed by the Nordic Council of Ministers' Grant Programme for Nordic-Baltic Non-
Governmental Organisations' (NGO) Cooperation 2021 Lithuania.